Sahrawis divided by a mined wall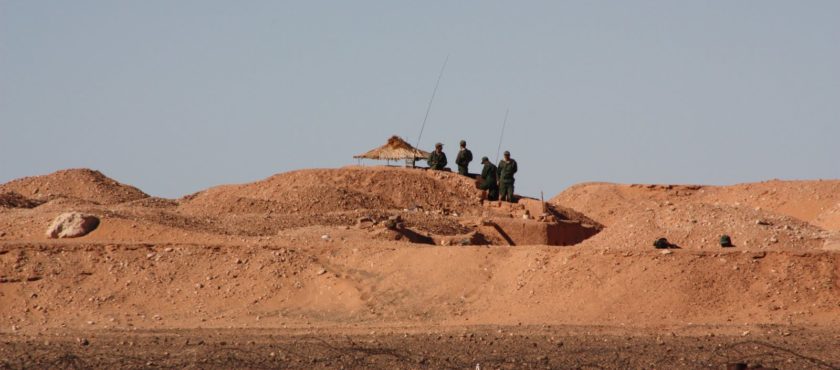 It has been dubbed the world's oldest functioning security barrier, but is also called a "wall of shame" by Western Sahara residents and leaders who want independence from Morocco.
"I was raised behind the wall and my children were born in its shadow," says Anzouga Mohamed Ahmed, one of about 165 000 Sahrawis living in camps in neighbouring Algeria.
Draped in the traditional 4m-long melhfa cloth seen by many as a symbol of Sahrawi culture, the 36-year-old says she has lost hope of returning to Western Sahara.
The Algerian-backed Polisario Front seeking independence for the former Spanish colony controls the Sahrawi Arab Democratic Republic on one side of the security wall, which snakes through the desert.
Morocco fought the Polisario from 1975 to 1991, and insists the Western Sahara is an integral part of its kingdom, despite United Nations resolutions calling for a referendum on self-administration for the territory.
Between 1980 and 1987, Morocco built six mostly sand barriers about 2 700km long around the 90% of the Western Sahara that it controls.
The berm cuts across El Mehbes, a vast ochre desert marked by the green of acacia shrubs and the white of a sparkling salt lake.
Barbed wire, trenches and minefields surround it, and Moroccan soldiers can be seen on the other side.
"It's one of the longest walls in the world and it has tightly sealed off Western Sahara," says Aziz Haidar, who heads a local group of Sahrawi victims of mine explosions.
Polisario chief Brahim Ghali calls it a "wall of shame that shares one land but separates families".
Zghela, 45, has family on the other side whom her 14-year-old son has never seen.
She recently took him on a three-hour trek from Tindouf across the desert to show him the wall "behind which his family lives".
Many Sahrawis say that just being near the wall feels like they are closer to their relatives.
But some have gone to the other side, like Demaha Labchi (66). Between 2004 and 2014, the UN refugee agency organised more than 20 000 family visits across the wall.
"We were allowed to visit for five days. It was too short. We would arrive in tears and leave in tears," Labchi says. "We want them to bring down that wall. It is separating families."
Mohamed El Haiba Ahmed Fal, an engineer who describes himself as a peaceful activist, also has painful memories.
In 2001, Moroccan authorities wanted to jail Fal, then in his late teens, for organising anti-government demonstrations.
Rather than be arrested, he crossed to the Polisario-administered side.
"I had no other choice. I had to cross the wall of shame," says Fal, who can now communicate with his parents only through the internet in the absence of direct telephone links.
His greatest challenge was avoiding the minefields, and he relied on a friend who accompanied him to the wall and showed him the safest route across.
During the 1975-1991 war, both Morocco and the Polisario planted mines in the region. According to various estimates between five-and 10-million mines are still there.
"Western Sahara is one of the most contaminated territories in the world," the UN Mine Action Service says on its website.
Landmines and explosive remnants of war "remain widespread" and "there is very limited information available regarding the location of hazardous areas", it warns.
The Polisario says it has handed over to the UN plans showing where they planted mines.
High winds, sandstorms and rainfall also pose a challenge as they can hide, reveal or move landmines.
According to Aziz Haidar, who lost two legs and an arm in a mine blast, such explosions have caused more than 300 casualties since a ceasefire between Morocco and the Polisario took effect in 1991. A UN peacekeeping force was set up when the truce began.
The Sahrawis are a nomadic people, and witnesses say thousands of camels have also been killed by landmine explosions. — AFP