Polisario Front explodes its last mine stockpile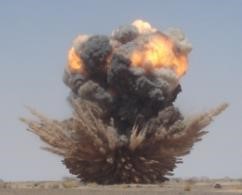 January 7, 2019 (SPS) – The Polisario Front destroyed Sunday in the region of Amhereez the 8th and final stage stockpile of 2,485 mines, in response to the Geneva call signed by the Polisario Front in 2005.
In his speech on the occasion, Minister of National Defense, Abdelah Lahbib, highlighted that the Polisario front had signed the Geneva call convinced of the need to dispose of dangerous and destructive effects caused by mines and explosive remnants of war of suffering and tragedies on peoples.
The minister expressed the concern of the Polisario Front and the Sahrawi state that Morocco remains one of the few countries in the world that has not yet joined the international community's efforts to ban mines.
For her part, the representative of the Geneva call in North Africa congratulated the Polisario Front and the Sahrawi state on the destruction of this stockpile of mines, which will contribute to alleviating the suffering resulting from the danger of landmines. (SPS)
062/SPS/TRA