Context and Operating Environment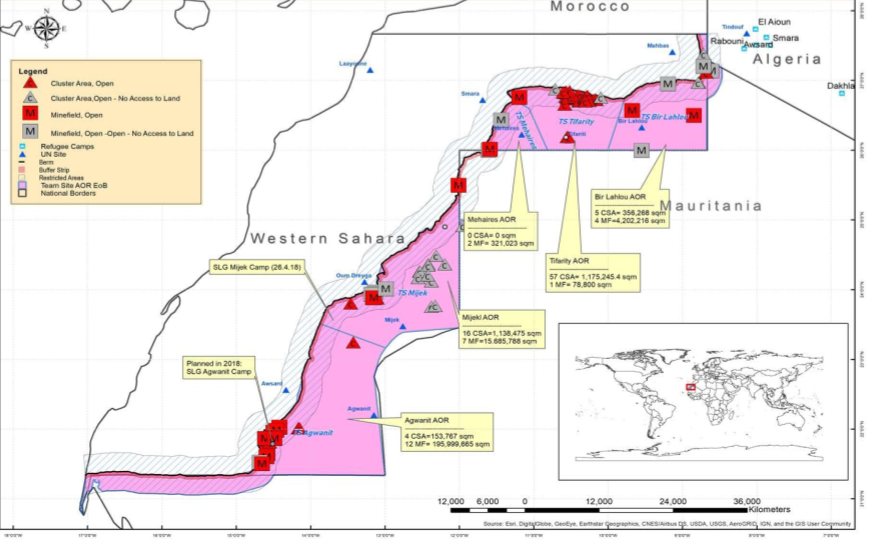 Both sides of the 1,465 km berm dividing the Territory of Western Sahara remain significantly contaminated with landmines and explosive remnants of war (ERW) as a result of the armed conflict from 1975 until 1991 between the Royal Moroccan Army (RMA) and the Polisario Front.

A total of 551 hazardous areas have been surveyed to the east of the berm so far, resulting in the identification of 58 minefields and 493 cluster strike areas (CSA). Explosive hazards continue to endanger the lives of local nomadic and settled populations as well as the livestock on which they are dependent and UN military personnel monitoring the ceasefire and humanitarian workers. Furthermore the threat posed by these dangerous explosive hazards hinders the repatriation of Saharan refugees and displaced persons along with the safe pursuit of livelihoods opportunities. Due to the conflict, the Sahrawi population has been living for more than 40 years in five refugee camps around Tindouf, a city located in a harsh isolated desert environment in southwest Algeria. The refugees are not only at risk of extreme poverty, they also face one of the hottest climates in the world, with temperatures surpassing 55 degrees Celsius in the summer. Within this context of deplorable living conditions, over 1,090 survivors of landmine/ERW accidents are particularly at risk.